Remarks – Acting Chairman Michael A. Khouri CMTS Industry Outreach Workshop on Maritime Infrastructure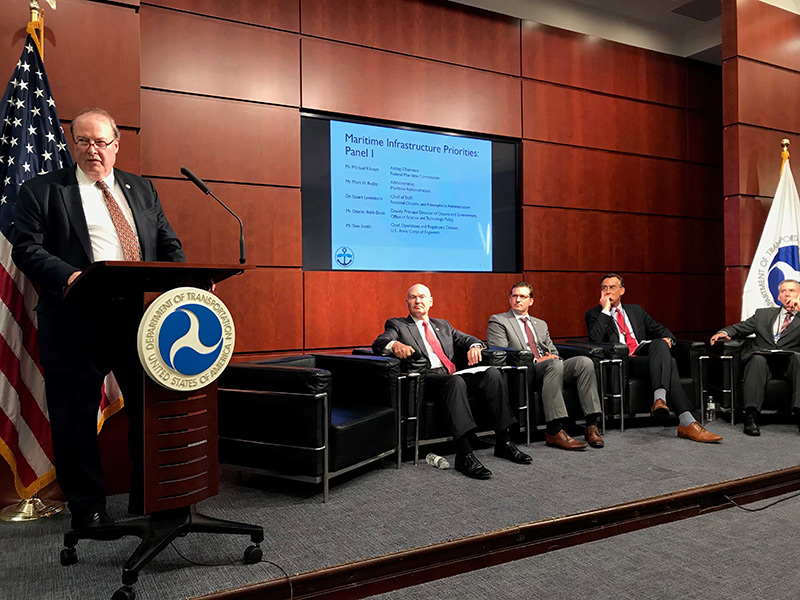 June 11, 2018
Thank you for the opportunity to join your workshop today.
Normally, one thinks of "infrastructure" as something tangible, like a port quay, a road, or a lock and dam. Unlike the Army Corps, the FMC does not "build" anything. But I believe it is appropriate in the maritime context to think of infrastructure more broadly – in terms of whatever facilitates the efficient flow of cargo.
And that is a prime mission of the FMC. Simply put, the FMC's mission is to ensure a competitive and reliable international ocean transportation system that supports the U.S. economy and protects the public from unfair and deceptive practices.
The Commission performs its mission under the Shipping Act with several programs. A primary program is our competition review and follow-on constant monitoring of cooperative agreements among marine terminal operators and among ocean vessel common carriers serving the U.S. ocean-borne foreign trades to ensure that the agreements do not result in unreasonable increases in transportation costs or decrease in transportation services.
The Commission also protects the shipping public from unlawful, unfair, and deceptive ocean transportation practices and helps in resolving shipping disputes. We ensure system integrity through licensing and financial responsibility requirements of ocean transportation intermediaries who facilitate our international commerce. We investigate and rule on public party complaints regarding rates, charges, and practices of vessel common carriers, marine terminal operators, and ocean transportation intermediaries. America's exporters, importers, and consumers are the ultimate beneficiaries.
The ocean transportation system has changed significantly over the last few years. The number of major global shipping companies decreased from 21 to 12. With new construction, global fleet capacity has increased to 5,200 container ships and 21 million TEUs of capacity. Nine of the twelve major ocean carriers are now members of three global vessel cooperative operational alliances.
Industry analysts and shipper interests recognize that the alternative to monitored and well-regulated vessel alliances would be further mergers and consolidation in the industry resulting in fewer ocean carriers and less service options.
The Commission has responded to these structural developments with new agreement negotiation practice that narrows agreement authority, restricts language scope, and with enhanced monitoring programs. For all agreements, our staff maintains a careful watch on industry trends, being vigilant for indications of anticompetitive behavior.
Marine terminals and port authorities have shown increased interest in using alliance type agreements and terminals are cooperating in new ways. The ports are using these cooperative agreements to help in addressing the challenges presented by larger vessels operating in new alliance structures that are unloading more containers at each port call with the resulting need for enhanced port infrastructure and developing collective solutions to mitigate cargo bottlenecks.
The Commission addresses other matters that impede the efficient and cost-effective flow of cargo. In December 2016, the Coalition for Fair Port Practices filed a petition asking the FMC to begin a new rulemaking proceeding to regulate practices by marine terminals and ocean carriers related to demurrage and detention fees. Marine terminal container congestion caused by various exogenous factors were claimed to result in unfair demurrage/detention fees. After numerous public comments and two days of hearings, the Commission voted to open a formal investigation to develop a full factual record. An interim investigation report is scheduled for September and a final report is due in December of this year.
On the regulatory front – or rather the DE regulatory front – we are following Shipping Act provisions and directions set out in Executive Order 13777. The Commission is continuing our process of identifying and addressing outdated, unnecessary, or unduly burdensome regulations. Last Wednesday, we advanced a final rulemaking that simplifies two common freight contracting processes.
Global supply chain operations benefit from less regulation through lower costs that ultimately pass through to America's exporters, importers, and consumers.
The cumulative effect of the Commission's programs is to ensure competition and integrity for America's ocean supply chain.
Thank you and I will be pleased to answer questions at the end of the panel presentations.