Chairman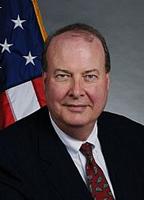 Michael A. Khouri
Chief of Staff: Mary T. Hoang
Counsel: John A. Moran
Senior Advisor – Legislative/Public Affairs: John K. DeCrosta
Contact Information
Phone: 202-523-5911
Email: mkhouri@fmc.gov
Biography:
Michael A. Khouri of Kentucky was designated by President Trump as Chairman of the Federal Maritime Commission on March 7, 2019. He had previously served as Acting Chairman from January 23, 2017. He was first nominated by President Obama and confirmed by the U.S. Senate in December 2009, was re-nominated and confirmed for a full five year term in November, 2011, and was re-nominated and confirmed for his current term in June, 2016.
Chairman Khouri is a forty-nine year veteran in the maritime industry from positions held in marine vessel operations, legal and executive positions. He also served on the boards of directors at the Waterways Council, Inc. and the American Waterways Operators Association.
Mr. Khouri began his career as a deck crewman for Paducah, KY-based Crounse Corp., where he worked up in rank with service in the engine room and then into the wheelhouse as Pilot and Captain, earning his U.S. Merchant Marine Officer's License as Master and First Class Pilot on Steam and Motor Vessels. He then served for twenty-three years with American Commercial Lines, the largest U.S. inland marine company, holding executive positions including General Counsel & Secretary, Senior Vice President for Law & Corporate Affairs, and Senior Vice President for Transportation Services-marine operations. Mr. Khouri then joined MERS/Economy Boat, serving as President & COO before moving home to Louisville to join the law firm of Pedley & Gordinier.
Mr. Khouri received his BA in Economics in 1971 from Tulane University, and his JD from the Brandeis School of Law-University of Louisville in 1980. He is also a graduate of the Harvard Business School's Advanced Management Program.
Related Articles
Posted: February 12, 2021
Chairman Michael A. Khouri released the below Letter to the Editor (paywall), submitted to Lloyd's List earlier this month.  In his correspondence, Chairman Khouri answers an Opinion piece suggesting that regulatory agencies are an impediment to addressing the issue of misdeclared hazardous cargoes.  The Chairman stated the shared concern the Federal… Read More »