Former Commissioner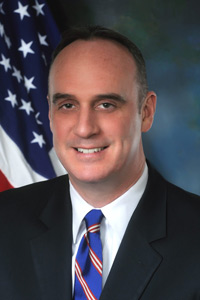 William P. Doyle
Counsel: David Tubman
Biography:
On January 1, 2013, the United States Senate confirmed President Barack Obama's nomination of William P. Doyle of York, Pennsylvania as a Commissioner of the Federal Maritime Commission. He was nominated to another term by President Obama on January 29, 2015, and unanimously confirmed by the U.S. Senate on March 23, 2015
Commissioner Doyle served over a decade as officer in the U.S. Merchant Marine as a marine engineer aboard numerous classes of vessels. Combined, Commissioner Doyle has over 20 years of experience in the transportation industry, including both the maritime and energy sectors. Throughout his career, he has held several senior executive positions in the industry.
Internationally, Commissioner Doyle participates on certain bilateral shipping matters with other countries. Commissioner Doyle represents the FMC at the annual U.S.-China Bilateral Maritime Consultations where he meets with officials from the People's Republic of China regarding maritime shipping matters such as tax policies affecting U.S. interests in the U.S.-China trade. Further, he managed the most recent update to the 2012 FMC Study of U.S. Inland Containerized Cargo Moving Through Canadian and Mexican Seaports. This study examines the impacts and the extent to which the U.S. Harbor Maintenance Tax (HMT), and other U.S. policies may incentivize container cargo to shift from U.S. West Coast ports to Canadian and Mexican ports. Last year Commissioner Doyle surveyed construction sites for the Panama Canal's third set of locks. The Canal is major transit point for FMC-regulated vessel operating common carriers and a critical component to international oceanborne commerce to and from the U.S.
At the FMC, Commissioner Doyle has worked with his fellow Commissioners to adjudicate a backlog of cases filed with the Commission; the Commission now resolves over 90% of its cases within two years. Commissioner Doyle has also voiced strong support for natural gas as a marine fuel, especially with regard to meeting international environmental standards (MARPOL Annex VI Emission Control Areas). Commissioner Doyle is a vocal proponent of the development of U.S. natural gas resources and its impact on the U.S. energy and transportation landscape in helping to improve U.S. energy security while spurring economic development and job creation around the country.
Prior to being sworn in as Commissioner, Commissioner Doyle was Chief-of-Staff of the Marine Engineers' Beneficial Association. There, Commissioner Doyle managed the organization's interests before federal, state, and local elected and administrative bodies. He was the Association's leader in business development, legislative strategies, contract negotiations, and provided counsel and guidance to the executive board.
Previous to his role as Chief-of-Staff, Commissioner Doyle served in an executive management role as the Director of Permits, Scheduling, and Compliance with the Office of the Federal Coordinator for Alaska Natural Gas Transportation Projects. There, he managed and directed the permitting and regulatory coordination of 24 federal agencies, numerous State of Alaska agencies, and both federal and provincial agencies of Canada. Additionally, the Commissioner acted as lead negotiator for the U.S. Government in securing cost recovery agreements with private sector national and multinational companies.
Prior to his FMC appointment, Commissioner Doyle had been appointed to boards and committees under both the Obama and Bush Administrations, including:
Representative on U.S. delegation for the United States on the bilateral trade delegation for the U.S. – Canada Energy Consultative Mechanism meetings, where bilateral energy trade issues were explored for strengthening the largest bilateral energy relationship in the world;
Representative of the U.S. in the annual coordination meeting between the U.S. Pipeline and Hazardous Materials Safety Administration and Canada's National Energy Board;
Selected by the U.S. Department of State to participate in an international shale gas workshop to assess international resources, supply options, and market conditions;
Served a two-year term as a liaison on the Labor Advisory Committee to the U.S. Trade Representative, and in this capacity, the Commissioner assisted the Committee in soliciting and obtaining advice from various industries, agricultural concerns, environmental stakeholders, labor groups, and other non-governmental organizations throughout the trade policy process; and
Appointed and served for four years as a Board Member on the United States Department of Labor's Advisory Committee on Apprenticeship.
Commissioner William P. Doyle was born in Boston, Massachusetts and raised in Weymouth. He is a 1992 graduate of the Massachusetts Maritime Academy, where he earned a Bachelor of Science in Marine Engineering. As a cadet, he worked in the Quincy, Massachusetts shipyard breaking out vessels for Operations Desert Shield and Desert Storm. Upon graduation from Mass Maritime, he began sailing as an officer in the U.S. Merchant Marine. As a U.S. Merchant Marine Officer from 1992 to 2002, Commissioner Doyle's shipboard experience included serving aboard ammunition ships in and around Diego Garcia, car carriers servicing Europe and the Pacific Rim, tanker vessels, and in the U.S. Maritime Administration's U.S. Ready Reserve Force Fleet. While still serving in the U.S. Merchant Marine, Commissioner Doyle entered law school at Widener University School of Law in Harrisburg, Pennsylvania. Throughout law school, Commissioner Doyle worked his summer and winter breaks serving aboard Pre-positioning ships in South Carolina, delivering jet fuel to Haifa, Israel, and transporting liquid-sulfur between ports along the Gulf Coast of the United States.
Related Articles
Posted: December 15, 2017
Commissioner William P. Doyle is departing the Federal Maritime Commission in early January to accept the positions of Executive Director and Chief Executive Officer of the Dredging Contractors of America. Commissioner Doyle's last day of service will be Tuesday, January 2, 2018. In his new roles, Mr. Doyle will be… Read More »