Former Commissioner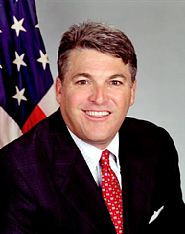 A. Paul Anderson
Biography:
COMMISSIONER A. PAUL ANDERSON, of Florida, was nominated by President George W. Bush on April 11, 2003. On August 22, 2003, the President announced the recess appointment of Mr. Anderson to be a Federal Maritime Commissioner for the remainder of a 5-year term expiring on June 30, 2007. The President re-nominated Commissioner Anderson on October 1, 2003, and his nomination was unanimously confirmed by the full Senate on May 5, 2004. Mr. Anderson was sworn in to the office of Commissioner on June 3, 2004.
Prior to his appointment to the Commission, Mr. Anderson was the Vice President for Government Relations at JM Family Enterprises, a diversified automobile business headquartered in Deerfield Beach, Florida. He held that position for the past 9 years. Between 1987 and 1994, he worked in Port Everglades, Florida, as the Director for Public Affairs, Assistant to the President, and Marketing Manager for Hvide Marine, Inc. (now operating as Seabulk Inc.), a diversified marine transportation company with tanker, offshore supply vessel, tug boat, and barge operations. His prior work includes serving for several years as Special Assistant to U.S. Senator Paula Hawkins, as well as extensive work with maritime trade associations.
Mr. Anderson also brings to the Commission significant leadership experience through the various positions he has held in numerous public and private organizations, including serving as the Chairman, Board of Trustees, Broward Community College; Chairman, Board of Directors, Broward Alliance, the economic development agency for Broward County; as a member of the Orange Bowl Committee; and member of the Board of Directors, Public Affairs Council. He also focused his efforts on education and children's charities, serving on the Board of Directors of the Broward Education Foundation, the Board of Directors of the Museum of Discovery and Science (Ft. Lauderdale, Florida), and the operating committee of Take Stock in Children. He also served for 12 years on the Military Academy Advisory Board of U.S. Senator Connie Mack, and was a founding board member of Broward Navy Days, Inc., a naval services support organization that hosts one of the largest fleet week celebrations in the United States.
Mr. Anderson graduated from the University of Florida in 1982, and is a 1997 graduate of the Program for Senior Managers in Government, Harvard University, John F. Kennedy School of Government.  Mr. Anderson has received numerous civic and business awards, as well as the Freedom Award from Broward Navy Days and the U.S. Coast Guard Distinguished Civilian Award recognizing his contributions and support of military services and personnel.
Federal Maritime Commissioner A. Paul Anderson left the agency May 30, 2008.
Related Articles
Posted: December 8, 2022
Commissioners Carl W. Bentzel and Max M. Vekich wrote key Members of Congress to urge changing the law in a way that would allow the Federal Maritime Commission to prohibit filed agreements from automatically going into effect. "Congress provided the Commission with important additional authorities in the Ocean Shipping Reform… Read More »