COMMISSIONER MING CHEN HSU was first appointed by President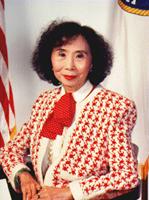 Bush as Commissioner of the Federal Maritime Commission in April of 1990 and confirmed by the United States Senate in June 1990, to complete the term of a former Commissioner. She was reappointed to a full five-year term in July 1991 and confirmed by the United States Senate in October 1991.  Commissioner Hsu served with the Commission until December 1999.
Commissioner Hsu has had an extensive career in international trade and commerce in both the public and private sectors. She was a Vice President for International Trade for RCA Corporation in New York, where she held a variety of executive positions in the areas of international marketing and planning.
In 1982 she was appointed as Special Trade Representative by former Governor Thomas H. Kean of New Jersey and as Director of the State's Division of International Trade. She served in the Kean Administration for 8 years until her appointment to the Federal Maritime Commission in 1990.
In her position with RCA and the state of New Jersey, Commissioner Hsu led over 20 trade missions to different countries throughout the world, including Europe and Russia. Since the early 1970s, Commissioner Hsu has made over 30 business trips to China. As a Commissioner of the Federal Maritime Commission, she has addressed maritime industry groups in Brussels, London, Singapore, Hong Kong, Shanghai, Beijing and many U.S. cities.
A writer and consultant on international business and trade, she is also a speaker and lecturer and has appeared on numerous network and local television programs in the United States. Commissioner Hsu has served on several federal advisory committees, having been appointed by the President, the Secretary of Defense, the Secretary of Commerce and the U.S. Trade Representative. She is the recipient of numerous awards for her work in international trade.
The Commissioner, a naturalized U.S. citizen, was born in Beijing, China and lived throughout Asia. She attended the Raffles Girls' School in Singapore in the late 1930s. She is a Summa Cum Laude graduate of George Washington University and a member of Phi Beta Kappa. At New York University, Commissioner Hsu was a Penfield Fellow for International Law. The Commissioner was the recipient of the George Washington Alumni Achievement Award in February 1983. She received an LL.D from Ramapo College in May 1988 and from Kean College in May 1989.